Gentle, pure natural light from Luculia
World's first shadowless dental lamps
to use Light concentrating organic EL panel
Iminate shadows in the oral cavity, produce true natural colors.
No glare of the light,
protecting the eyes from the risks of blue light.
Built-in Full HD Camera as the standard configuration.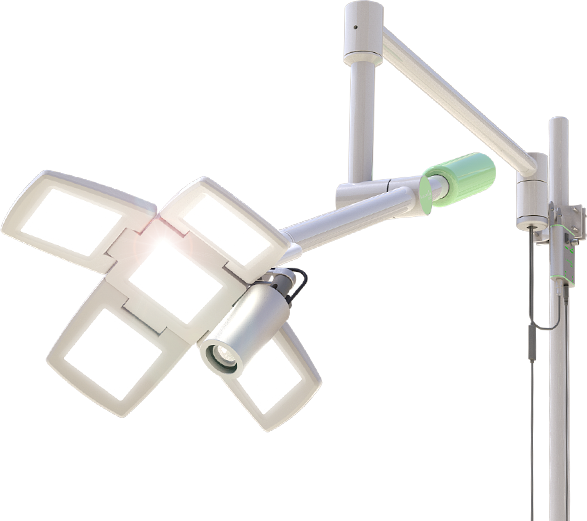 Compleately New Concept Shadowless Detal Lamps with Attractive Design
Employ thin, lightweight organic EL panel

Dubbed the next generation light source, the organic EL panel generates little heat, has no glare and produces true colors.
The use of a light focusing film enables light to reach far inside the oral cavity.

No shadows. True colors produced

With conventional light sources, light does not adequately penetrate into the oral cavity and shadows cast by the practitioner's hands tend to make the area being worked on even darker. The strong reddish tint of conventional lighting makes it difficult to produce the true color of teeth and causes errors in tooth color assessment. Having the same optical spectrum as sunlight, the soft light from the organic EL panel produces natural colors.

Easy to mount on your dental unit

Luculia dental lamps are easily mounted on your present unit so there is no need to purchase a new one.

Easy positioning with 2 rotating arms

The roatating mechanism of Balancing Arm and Yoke Arm allows easy and flexible vertical and horizontal positioning.

No fast curing of resin by LED

The light of Luculia has less fast-curing effect of resin, thus allowing smooth, stress-free dental operations on site.

Option

Additional light source is available for dental surgery and implant operation. If stronger luminous intensity is required, an LED light source (without blue light risk) can be retrofitted.